4/2/16

Flower backpiece I'm currently working on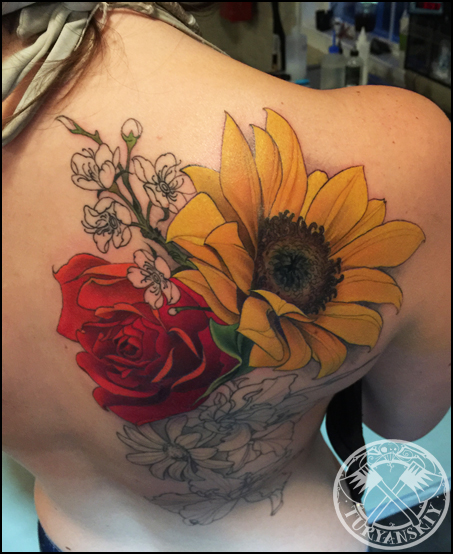 ---
4/2/16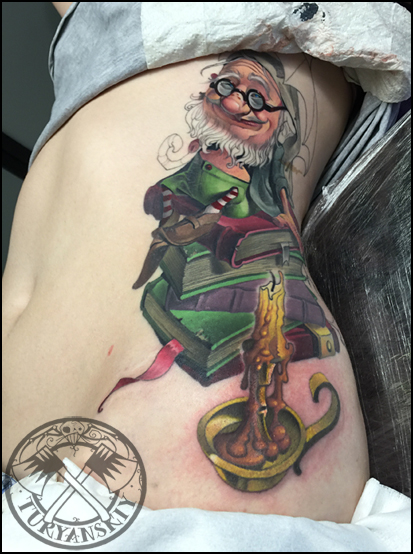 ---
2/19/16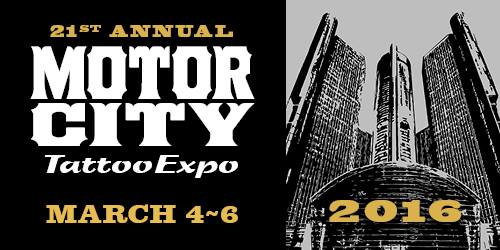 I'll be working Detroit Motor City Tattoo Expo March 4th to 6th. Contact me via o.turyanskiy@gmail.com to book an appointment.
---
2/19/16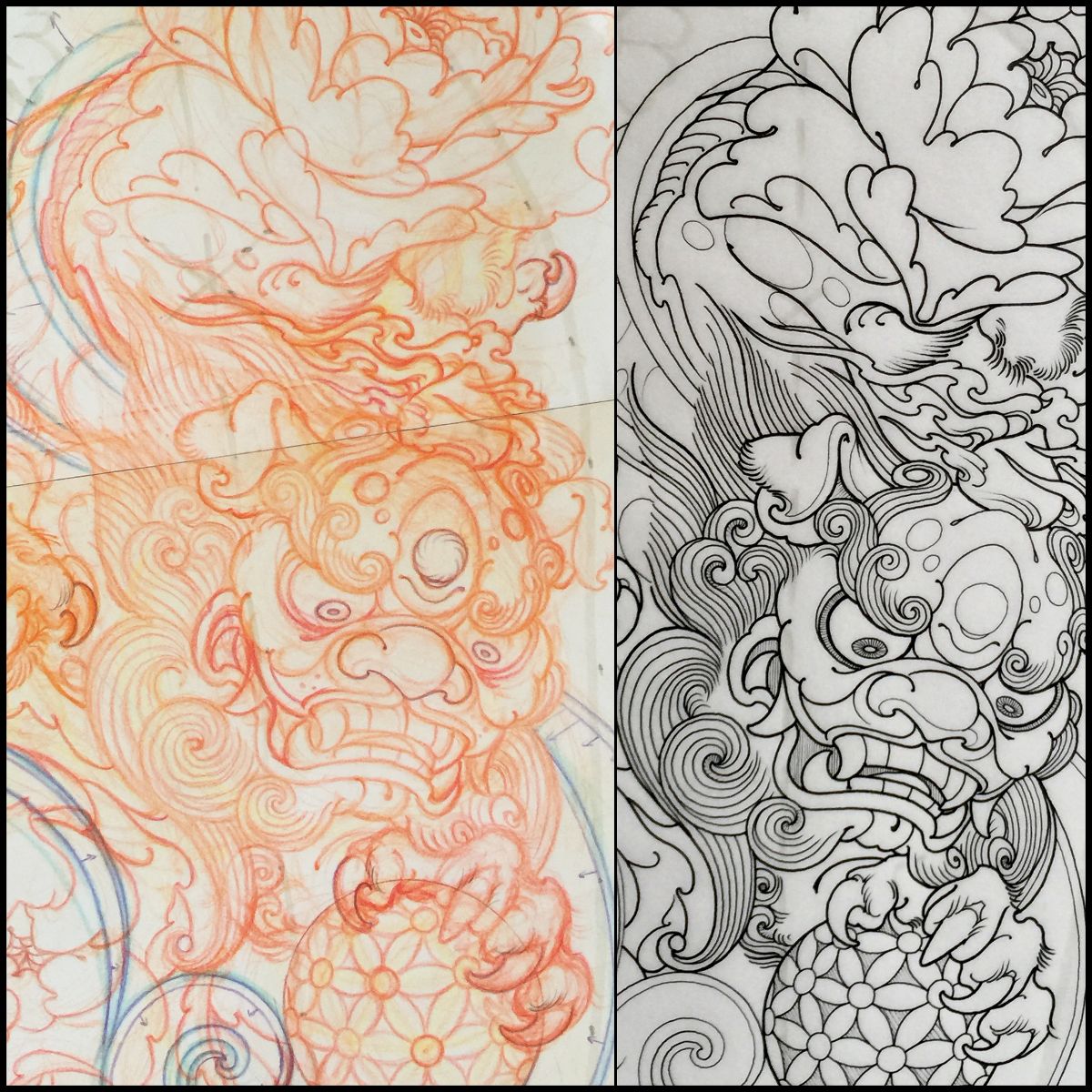 Sneak peek of the Oriental Foo Dog Tattoo design I'm currently working on.
---
2/19/16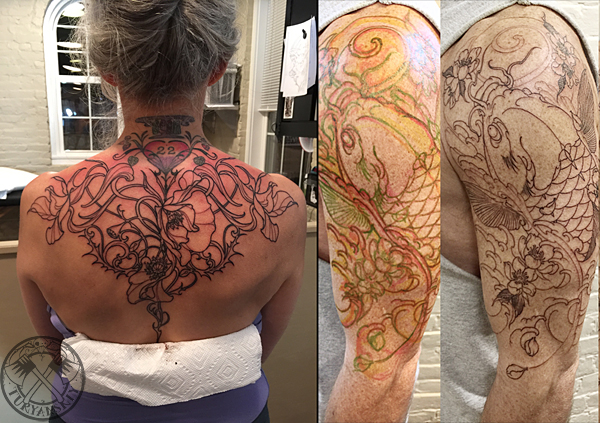 Poppy flower upper back piece outline along with the freehanded koi fish upper arm tattoo. Stay tuned to see the progress on these two.
---
9/18/12

Just want to say a few words about tattoo I did a while ago. It was a visitor from China on whom I worked 3 days in a row and this tattoo took me about 12 hours in total. I enjoyed working on this piece a lot as well as the company and my wish to visit China one day became even stronger.
It was very interesting experience to me as I never worked like that. You can find in progress picture after 2 days of work below.
---
9/18/12

The book Asian Motifs for Tattoos futures many tattoo artists and their Asian themed tattoo works, tattoo designs as well as a lot information about most popular Asian simbols. Can be purchased via Amazon
---
6/1/12

Let me represent the newest Memento Publishing book called Animal Ink. It features 304 full-color pages of beautiful animal tattoos from over 160 talented tattooists from around the world among which I have an honor to be.
In addition to the photos that Animal Ink is filled to the brim with, the book also includes 62 stories about select tattoos, that detail the meanings and inspiration behind each; told from the perspective of the collectors who wear the ink and the artists who inked them. Whether your interest is that of a zoological focus, tattoo art, reference inspiration, or keeping up with the impressive accomplishments of tattooists around the globe, Animal Ink would be a wonderful addition to your library.
11 x 8.5" hardbound, coffee table style.
---
6/1/12

---
2/24/12

German Tattoo Soul Portal published my interview in German which can be found here.
---
2/24/12

Tattoo World Book by Marisa Kakoulas and Michael Kaplan, which was released a few month ago, features some of my black and gray animal portrait tattoos. This hardback book includes more than a 1000 illustrations from 125 tattoo artists from around the globe and represent different tattoo styles on 384 pages.
I also want to add that it was honor for me to be a part of this project which came out fantastic.
You can find some useful links bellow.
Needles and Sins tattoo related blog by Marisa Kakoulas and some info about Tattoo World book.
A few links where Tattoo World book can be purchased: Barnes and Noble, Amazon and Easons. French translation is available here.
---
9/26/11

An article about me was published in September's issue of Skin & Ink Magazine. Hope you enjoy it. ~Oleg.
---
8/9/11

This maple leaves tattoo was supposed to be a lower half sleeve at first but later turned out into something a bit bigger. The soulder left clean in purpouse, it was my clien't idea from the very beginning, very strange one, I must say. As far as I got every leaf or flower means something for him since he knew exactly how this or that should look, were placed etc. I freehanded all this tattoo. It took me about 27 hours in 6 sessions. Enjoyed working on this maple leaves tattoo sleeve a lot. The bigger version and rose zoom are available in my Tattoo Gallery as always.
---
6/16/11

Just got a picture of Yoda and Jabba Hutt Star Wars tattoo I finished 5 years ago. In spite of the fact that it's on my friend I never had a chance to get a proper picture of it and put it on. Anyway, I'm going to add Gizmo portrait oh his inner arm next to Jabba Hutt in two weeks. Yay! Thanks to my wife for this brilliant idea, I was dreaming to do a Gizmo tattoo for a few years.
---
6/14/11

"... summer rain seems to last for ages.."
I was caught by my lil' paparazzi while working on a tattoo design on this rainy Tuesday. It made this update happen with additional pieces of the latest custom tattoo designs I've been working on recently.
A few words about these tattoo designs. The first one is going to be Native American Smoking a Pipe tattoo, which is a rib piece actually. The second one were about to be a Catterpillar sitting on a mushroom, influenced by Alice in Wonderland story/movie obviously, but later turned into Troll with a pipe sitting on a mushroom, which is for the better for sure. This tattoo is going to be on an upper arm and go down to elbow. The third tattoo design is Japanese Dragon flying up to the sky from the waters with lotus and some cherry blossoms. The Japanese Dragon is a tattoo sleeve.
All this tattoos are going to be in color. Looking forward to start working on all of those pieces. Promises a lot of fun. ~Oleg.
---
5/6/11

Fairytale Creatures Tattoo Sketchbook in a collection of ready to tattoo line works I'm glad to represent.
Size: A4 (210 x 297 mm).
Cover: High quality, full color, hard paper, protected with transparent plastic sheet.
Inside: Light-green designer paper 160g/m2.
All the drawings included in this Fairytale Creatures Tattoo Sketchbook were made in the end of 2010 - beginnig of 2011 period special for this project and had never been published anywhere before.
The Fairytale Creatures Tattoo Sketchbook has 50 pages and contents 88 line drawigs influenced by fairytales from all over the world as well as represents creatures which were born in my imagination.
The presentation of my Fairytale Tattoo Sketchbook is going to be at Liverpool Tattoo Convention (May 14-15 of 2011) and limited number of copies will be awailable for purchase. It will be also awailable in store section here in June.
Hope you enjoy it.
---
4/14/11

I finished working on this tattoo about a month ago and just took some healed pictures. I did everything but Joker, unfortunately, which was done before by someone else, then fixed by another guy (that's how it looked before I started working on it ), so I was to turn that tattoo into a sleeve. I put a king's head on the inner arm since it seemed obvious having Joker in such a pose, holding a kings crown. I also added some drops of blood to the Joker's knife to make it work with the King's head and blood coming from his neck. Lower part of this Joker and Chess King tattoo sleeve shows the transformation of the chess figures into knights. Existed Joker tattoo was fixed by me once more. I had a lot of fun working on this Joker and Chess King tattoo sleeve, I enjoyed doing this custom tattoo, having a freedom to show my vision. As you probably noticed all of my art works devoted to fantasy creatures and it was a great pleasure to tattoo these characters as well. I wish I had more inquiries of that sort. It took me about 40 hours / 7 sessions to complete this Joker and Chess King tattoo sleeve. A few detailed pictures of this custom Joker and Chess King tattoo sleeve available in my Tattoo Gallery.
---
2/27/11


Just got some healed pictures of the tattoo I started durring my guest spot at Tendre Furie Tattoo Shop (Belgium). The beginning is available here. It took me somethig around 35 hours and I worked on it 4 very long sessions. The tattoo is available in my Tattoo Gallery and presented in a few pictures showing all the details of it. Also I must say it was the first tattoo sleeve I've done for 10 years of tattooing, so I was and still are very excited about this tattoo. I had a lot of fun working this tattoo sleeve and it was a great experience as well. I was glad to find a good friend which the owner of this tattoo had become for me. ~ Oleg


---
12/21/10

Just got a healed picture of the 2 koi fishes tattoo. This custom tattoo took me about 11 hours. I've become really interested in oriental tattoos recently so it was nice to have an opportunity to work on this chest piece. I had fun tattooing these 2 koi fishes. The result you can see in my Tattoo Gallery as usual as well as all the recent tattoo works. ~Oleg.
---
12/21/10

Flash set includes 9 sheets with ready-to-use tattoo designs. They are  11.7"x16.5" (US) or A3 29x42cm (Europe). Shipping worldwide included. Contact me if interested. ~Oleg.
---
12/21/10

Art prints of my art works available from now on and can be purchased in the Store section. Feel free to contact me if you have any questions. ~Oleg.
---
10/10/10

My new painting The Horned Rider is finished. You can see it in progress here and full finished version in my Art Gallery . Prints of A4 and A3 sizes will be available in the Store section very soon. ~Oleg.
---
8/14/10

I just finished working on two these paintings, each 2"x3" in size, done for Durb's Pintsize paintings project vol.2. 
---
7/17/10

Art Gallery is updated. Several new images added. Prints will be available in the store on here very soon.
---
6/27/10

Couple of new tattoos uploaded to my Tattoo Gallery. Check them out. ~Oleg.
---
6/26/10

Well, I'm excited to have my website up, so I hope you enjoy it.
~Oleg
---